From the Desk of Elizabeth Adams...
ElizabethAdamsDirect.com was created to assist the Home-Based Entrepreneur achieve success.


---

NEW

"Make Money Now Online — A Shortcut to Six Figures", by Elizabeth Adams, reveals the quickest and most profitable way to make money now online ... to get paid daily and earn a full 100% commission for your marketing efforts.


---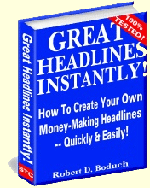 "Using Quality Headlines Can Make You Money!", by Elizabeth Adams. I wrote this article for two reasons. First of all, it reviews what I believe to be a valuable resource: an eBook, "GREAT HEADLINES — INSTANTLY!", by Robert Boduch, which focuses on writing great headines. Secondly, I wrote the article as a sample of an effective, online sales page using CSS; the CSS techniques I used are discussed in my article, "Sales Pages With Style: Create Quality Sales Pages With CSS."

All marketers know that every online marketing approach must start with a good headline, be it a traffic exchange banner ad, squeeze page, sales page, article, or Google ad. If the headline is not well crafted, a prospect will most likely read no further.


---

"A Primer on Starting a Business Online", by Elizabeth Adams explains what's involed in starting a business online.


---

"Dress Your Sales Pages For Success: 5 Tips For Creating Appealing Sales Pages", by Elizabeth Adams. You can dramatically improve the effectiveness of your sales pages by dressing up their visual presentation. When you do this, your sales pages will be easier to read, easier to understand, and aesthetically pleasing. Elizabeth shows you how to do this with 5 powerful tips. The article itself shows the visual impact of applying the 5 tips.


---

"Sales Pages With Style: Create Quality Sales Pages With CSS", by Elizabeth Adams. Sales pages, to be effective, must immediately catch the attention of even a casual web surfer. The sales message contained in the sales page must be both easy to read and understand. If the content-display styling is well crafted, the sales message can be absorbed after just a rapid page scan. This article shows you how to style sales pages with CSS.


---

"Create Quality Articles With CSS", by Elizabeth Adams. You can write quality articles for your website that are both easy to read and aesthetically pleasing by learning how to use Cascading Style Sheets (CSS) or templates. This article shows you how.

Although the article was written to show how articles for the web can be created using CSS, the techniques discussed in the article have wide applicability to web pages generally—including sales pages of one kind or another. The article is also a mini tutorial on HTML documents and CSS coding.


---

"Profitable Ads: How to Write Ads that Pull", by Elizabeth Adams, explains how you can write profitable ads that convert visitors to customers. These ads are easy to write when you know how. Here are some basic guidelines for writing ads that pull.

For an explaination of how this article was written for the Web, see "Create Quality Articles With CSS."


---

"The Opt-In Form: Easily Get More Quality Leads", by Elizabeth Adams.

As explained in my article, "Profitable Ads: How to Write Ads that Pull," if the other ad components have been crafted properly, your visitors will already be "pre sold" on what you are offering them. The opt-in form must eliminate any misgivings a visitor might have about filling out the form and hitting the submit button. The basic components of the opt-in form work together to accomplish this.


---

"Google Case Study: How to Get on the First Page of Google", by Elizabeth Adams, was written as a response to a blog post, posted by Hunny, a young man from the other side of the world. In the response, I explain how he can get his article, "Learn 8 Ways of Effective Leadership," seen on the first page of Google. I hope it helps him. Maybe it will help you some, too.


---



Elizabeth Adams Explains

Reverse-Margin Marketing. With Reverse-Margin Marketing, your customer pays you directly, not the company. The entire purchase price goes directly into your merchant account and from there directly into your bank account. You don't have to wait for a company-generated paycheck and can make money now online--fast.




---
More Information...
Elizabeth's ArticleElf
If you would like to receive my old-fashioned
newsletter and also receive a copy of my ArticleElf, please feel welcome to sign up for it below.



Web Resources:

Affiliate Links:

The affiliates listed below provide services we at Elizabeth Adams Direct can recommend without reservation.


Useful Links:





Contacts:




| | |
| --- | --- |
| Buy me a glass of champagne! --> | |




This site entry page is based on the work and philosophy of Jakob Nielsen.